Wizard of Odds website started out as Mike's Gambling Page. Michael Shackleford, the founder, trained in Actuarial science. Before starting this site, he worked at the Social Security Administration. The website uses mathematics to figure out how to best play a casino game. Apart from reviewing games, the site helps game developers to write games and has helped design many popular online slot games. Mike's interest in gambling goes way back to his childhood. He played a lot of poker, acey-deucy, and guts. Once he was old enough to play blackjack, he developed an interest in sharpening his playing skills.
The Wizard of Odds constantly creates new content. Online games are tweaked every other time. With every upgrade, the site adds more information to its reviews. It offers unique content and only allows few other sites to republish specific articles. His followers, therefore, have access to content unavailable anywhere else online.
The Wizard's Helpers
Looking at the number of reviews found on this website, it is impossible to have one person writing all of them. The wizard is helped by four gaming experts: JB, Heather, Brandon James and Dustin Jermalowicz. Each of them is an expert in their own right.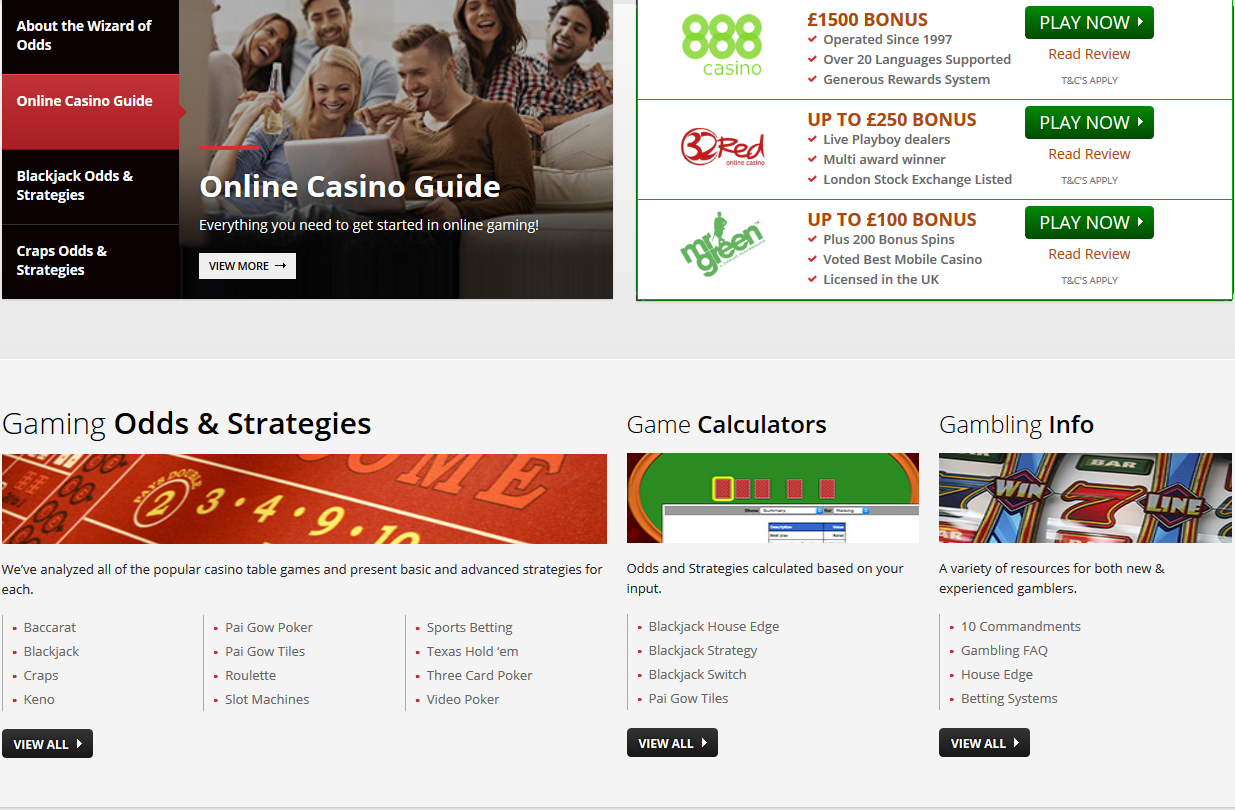 Instruction Manuals
Wizard of Odds has the rules for every game he has reviewed. Texas Hold'em, for instance, is one of the most popular variations of poker. To help players understand how to play it, the site explains every last rule in the playbook. In his instructions on how to play by the rules, he gives insight on how to combine and manipulate the odds to win.
However, there are too many ways to interpret the rules, and the wizard does not cover all of them. His interpretation is biased to his analysis.
The wizard's site is packed with free games. Even the versions that need money for one to play have the bets low enough for anyone to afford. Mr Gamez free casino games are the site's finest training tools. These free games are all designed to be as realistic as possible. This allows players to sharpen their skills following the wizard's instructions.
After gaining basic skills from the free games, players can test their skills using the wizard's simulated casino games. The site's baccarat, for instance, allows players to bet as little as 5 dollars. The players get to cash in their wins.
Wizard of Odds – The Good
Apart from its instruction manuals and teaching tools, there are other features that make the Wizard of Odds useful to its audience.
Wizard of Odds aims to offer players the best reviews on online slots and table games like roulette. Each review is detailed enough to guide a new player through playing their game of interest.
Wizard of Odds goes to great lengths to direct players to legitimate sites. The wizard says he reviews all casinos that advertise with them. He turns down sites he thinks are not legitimate.
This site offers reviews on almost every game available online. This gives every player who visits information that helps them play better.
In as much as helping the player win the game is the bottom line, there are no flashy ads promising a big bonus. All ads are vetted and static.
Wizard of Odds – The Bad
In this industry, the house always has the upper hand. The wizard of Odds says so himself. The information he gives is to play skillfully, not to win.
Online gaming is a considerably young industry; the test of time has not separated the good houses from the bad. As a result, some of the online slots reviewed by Wizard of Odds are not honest.
Wizard of Odds.com achieves its mission to provide gaming enthusiasts with information that helps them play better.